Are you looking for a trusted civil works and maintenance contractor for your civil, environmental or natural resource management project?
Greenworks provides civil contracting and natural resource management services to the waterways and land management industry.
Our three core business drivers – Solutions, Systems, Innovation – are geared towards providing tailored solutions that result in positive outcomes for our clients and the environment.
'For the benefit of our clients, our environment and our business'
Greenworks have built a reputation as a progressive project delivery group working with clients to deliver practical and innovative solutions to civil construction and natural resource management problems. We service the Melbourne metropolitan area as well as projects in regional areas.
Practical solutions to environmental construction are the foundation of our business approach and are fundamental to the continued success of our clients' projects.
ROCK BEACHING
Greenworks environmental contractors are number one in the industry for high-quality rock beaching work.
WETLAND CONSTRUCTION
Greenworks specialises in the civil component of constructed wetland systems including inlet and outlet rock beaching, sediment pond construction, overflow spillways, highflow bypass channel construction and bulk earthworks preparation for landscaping and revegetation.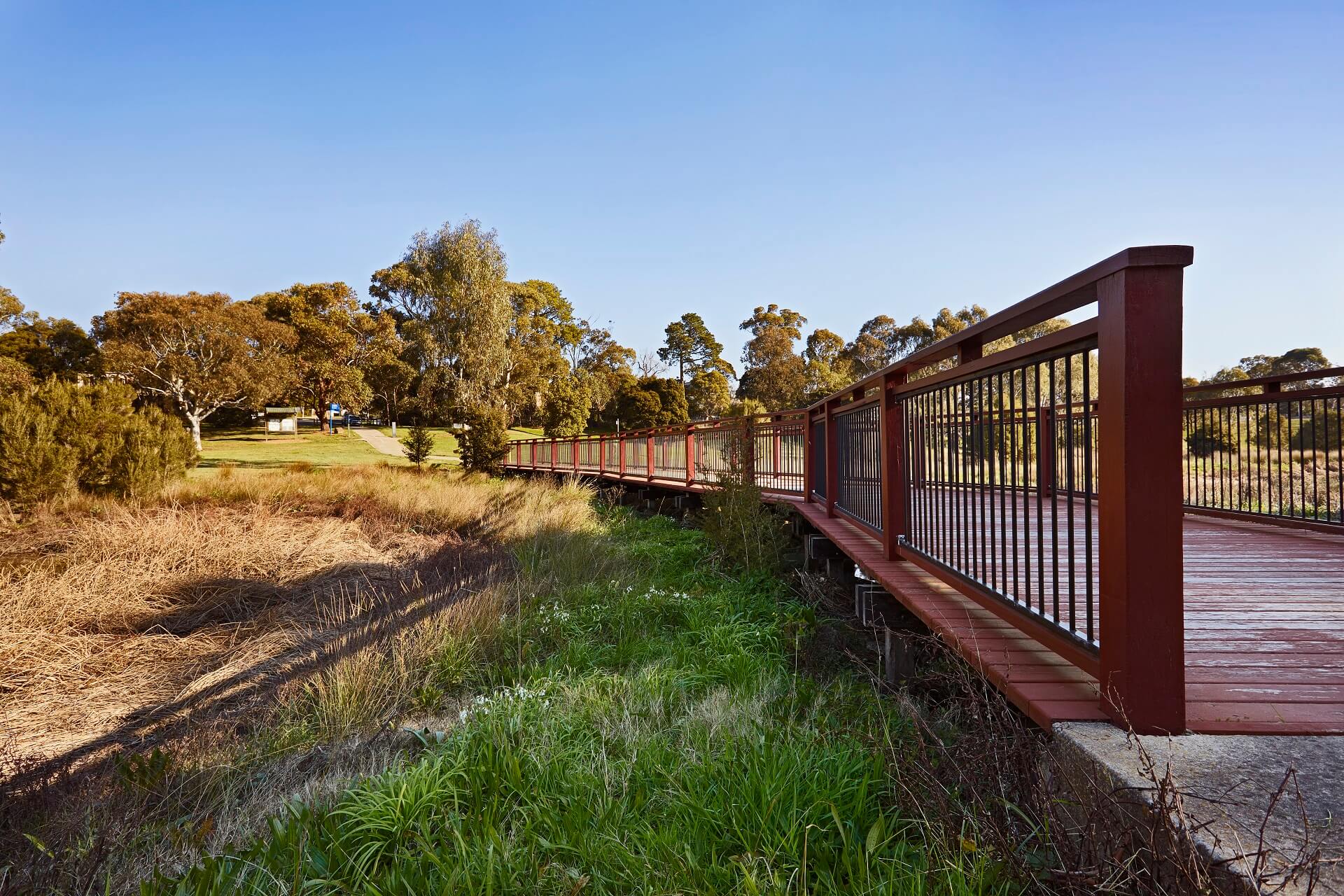 BRIDGES/CONCRETE STRUCTURES
Greenworks' workforce of engineers, operators and labourers share a high level of skill and competency related to minor bridge construction and fabrication of concrete and steelwork.
FISHWAY CONSTRUCTION
Greenworks have successfully delivered a number of large scale fishway projects including a concrete baffle fishway on the Maribyrnong River, the first of its kind in Victoria.
CONTAMINATED SOIL REMEDIATION
Inspecting, removing, transporting and disposing of contaminated soil, including asbestos contaminated soil, is one of Greenworks specialities.
Contact us today on (03) 9873 8774 for further information, project quotes and more.
"For our business growth, protection of our people and certainty for our clients"
Systems provide an integral part of the way we deliver solutions for our clients. Our Integrated Management System is based on the high standards and expectations of our clients. It is innovative, agile and allows all of our staff to access critical information on smartphones or tablets so they can receive and provide information in real time.
Safety
A commitment to Occupational Health and Safety is a cornerstone of our business.
Our Safety Management System is accredited to AS/NZS 4801 and our online reporting system ensures that safety matters are discussed and attended to in real time, giving our clients confidence that their projects are being managed with safety as the highest priority.
We believe in demonstrating 'safety leadership' and that means taking a proactive approach to all safety matters. In our business, this is achieved by continually working towards whole of company safety awareness.
Are you looking for a contractor that meets your high standards of Occupational Health and Safety to deliver your next project?
Contact Greenworks today at (03) 9873 8774 to see how our approach can save you time and cost without compromising safety.
Quality
Quality is at the forefront of our project work and underpins the continuous improvement philosophy within our business.
We are committed to providing excellence in civil construction and natural resource management and our Quality Management System is accredited and certified to the standards of the Civil Contractors Federation.
Our five-year plan has seen us obtain AS/NZS 4801 certification in 2017, in addition to our CCF certification. Our journey will see us progress to ISO 14001 and ISO 9001 and become triple certified to the highest standards.
Is quality of project delivery one of your key assessment criteria?
Contact Greenworks today at (03) 9873 8774 to see how our systems based approach can deliver a higher quality solution than others in the marketplace.
Environment
Our core business values include a commitment to deliver project solutions that positively impact the environment.
Our approach to environmental and natural resource management projects is highly valued by our clients and has resulted in Greenworks performing many projects in environmentally sensitive sites with excellent outcomes for all stakeholders.
We have built a reputation on delivering complex technical projects at the same time as managing sensitive environments for our clients.
Do you have a project requiring a high level of environmental knowledge, sensitivity and technical know-how?
Contact Greenworks today at (03) 9873 8774 to discuss your requirements.
"Innovation to service our clients' needs, liaising with our clients to identify the areas where we can partner with them towards innovative progression"
We pride ourselves on delivering innovation solutions to our clients' projects and we continue to build innovative practices into our organisation.
Technical
In 2018 Greenworks commissioned the construction of a long-reach excavator. This innovative solution has allowed for the safer removal of sediment and vegetation from wetlands and waterways.
Project
Greenworks completed works on a fishway within Brimbank Park, Keilor, restoring fish passage in the lower reaches of the Maribyrnong River. The existing fishway required modification in order to allow the free movement of eight native fish species, including the threatened Australian grayling. The fishway was constructed using concrete baffles, a new and innovative approach that is being used for the first time in Victoria.
Awards
Greenworks were Category 1 Winners at the 2018 Civil Contractors Federation Earth Awards for Excellence in Civil Construction. We were also finalists in the 2018 Melbourne Water Generative Safety Awards in recognition for continuous improvement in safety systems.
Company
Since 1992 Victorian Green Work Pty Ltd has been delivering construction and maintenance projects for public and private sector organisations across the civil engineering and natural resource management industry.
We have built a reputation as a progressive project delivery group working with our clients to deliver innovative solutions to civil construction and natural resource management problems.
People
At Greenworks, our people are our greatest asset. Our staff are highly trained and recognised as leaders in their industry. Our workforce of engineers, operators and labourers share a high level of skill and competency across a broad range of civil and natural resource management projects.
Please click on any of our people to find out more about their experience.
Shane Newman
Director and Operations Manager, Shane has been leading the industry for over 30 years, as a Melbourne Water supervisor before starting Greenworks over 20 years ago. Shane is our Senior Project Manager and Job Coordinator keeping an eye across all projects.
Simone Newman
Director and Administration Manager, Simone helps to make sure our staff are well looked after and our business operations are running smoothly. When not planning the next initiative for our team, Simone is catching up with friends and family or pursuing her interest in photography.
Adam Wynd
Adam is one of Greenworks' most experienced supervisors. Adam leads environmental, quality and safety management in the field and with certifications in Asbestos Removal Supervision, Traffic Management, Spotting, Operating Plant and Machinery including Chainsaws, Adam is highly valuable to each Client project he leads. When not making Greenworks' projects safer, more efficient or more practical Adam is busy being involved in junior sport, spending time with family and friends or maintaining his low handicap in golf.
Wayne Garner
Wayne is Greenworks' Construction Manager. With many years experience in the construction industry and a broad range of qualifications and certifications, from landscape gardening to pipe laying and a Cert IV in Civil Construction Wayne is a versatile member of our team. When not managing the team on site, Wayne is fishing or playing golf.
Kyle Newman
Kyle is one of our Area Coordinators, Site Foreman and Internal Auditor. With certifications as Crane Operator, Dogman, Class A Asbestos Removalist and Internal Auditor Kyle combines practical experience of field operations with systems knowledge to help Greenworks improve quality, safety and environmental management. When Kyle is not coordinating client projects in his area of operation, he is playing football, basketball or hanging out with friends.
Grace Ding
Grace is Greenworks' engineering and systems specialist. A Civil Engineer with a Masters of Engineering and one of our Internal Auditors, Grace is busy working to make our projects run more efficiently, ensuring quality solutions or engineering a better way to meet our client requirements. When Grace is not engineering projects, she is swimming or travelling the world.
Jason Wright
Jason is a licensed plumber, crane and heavy machinery operator and spotter and can be found on Greenworks' projects operating an excavator, PosiTrak or dumper. When not at work, Jason is playing golf, camping or 4 wheel driving with family and friends.
Don Kalapp
Don is one of Greenworks' go to people for concrete fabrication and formwork. When not fabricating concrete or operating plant and equipment Don is 4 wheel driving, taking photos and enjoying campfire cooking with mates.
Liam Fleming
As well as studying Civil Engineering, Liam is also part of our field team working as a spotter, labourer and certified asbestos removalist. When he is not hard at work or studying, Liam is watching football, learning other languages and playing strategy games.
Mark Watson
Mark is one of our most experienced operators and site managers. Licenced to operate various items of plant as well as holding a Heavy Rigid Truck Licence and Class A Asbestos Removal certification, Mark is in his zone in the excavator particularly when it comes to rock beaching work. When he is not carefully constructing a rock chute or undertaking bank stabilisation works, Mark enjoys 4 wheel driving and fishing.
Natalie Duboisee
Natalie is part of our filed team where she works as a spotter and labourer. With a high risk licence for Elevated Work Platforms Natalie is an integral part of our multiskilled team. When she is not solving access issues on our projects, Natalie enjoys horse riding, reading or spending time with family and friends.
Patrick Booker
Patrick is one of our Site Foreman and Class A Asbestos Removal Supervisors. When Patrick is not supervising projects or operating plant and machinery himself, he can be found bike riding and spending time in country Victoria or volunteering in the community at Upwey/Belgrave RSL as appeals officer and visiting members in hospital.
Haydn Bush
Hadyn is one of our plant operators and Site Foremen. A skilled operator of plant and machinery including chainsaws, Hadyn is also part of our Asbestos Removal Team. When Haydn is not busy making projects safer on the work site, he's usually found around cars, motorbikes or away camping.
CLIENTS
We work with our clients to deliver innovative solutions. We have built great relationships with clients across the public and private sector, from Tier 1 engineering contractors to State Government Agencies and Local Government Authorities.
Would you like to join our list of satisfied clients?
Contact Greenworks today at (03) 9873 8774 to discuss your next project.
MACHINERY AND EQUIPMENT
Greenworks own or lease our machinery and equipment and our fleet of excavators, trucks and mobile plant is specially selected to provide quality services to meet our clients' requirements.
Our equipment is regularly maintained in accordance with our Quality Management System and all our machines have current risk assessments and service documentation.
Are you looking for a specialist civil contractor with the experience and capability required to deliver your next project?
Contact Greenworks today at (03) 9873 8774 to discuss your requirements.
Good afternoon Shane Just wanted to pass on my appreciation for the work that Mark, Chris and Natalie have been doing at the Church of England T – Campbellfield creek line, rock work repairs. The team have signed in and out of the site each day and have been OH&S compliant. They are kicking goals with this job and it looks fantastic. They have been great to work with and we have had positive comments to date.
Helen Linehan, Senior Supervisor. The Greater Metropolitan Cemeteries Trust
Greenworks should be commended on the delivery of this project in a sensitive and high risk environment.
John Tinkler, Manningham City Council
I just wanted to thank you and the guys for a fantastic project out at Plenty River… The guys have produced an awesome outcome with very little guidance in the way of drawings etc and should be congratulated on a great outcome
Joe Caiafa, Melbourne Water
An amazing project. With thanks and appreciation.
Tim Wood, Melbourne Water
Some of our accomplishments
With an exceptional workplace health and safety record achieved through adherence to effective safe working procedures, Greenworks was recently nominated for the Melbourne Water Managing Director's Safety Award. We pride ourselves on a strong safety culture with...
read more
Contact us today at the number below for further information, project quotes and more.
Victorian Green Work Pty Ltd
Office: 4/87-91 Heatherdale Road Ringwood 3134
Postal: PO Box 3126, The Pines, East Doncaster, Victoria 3109
Email: solutions@greenworks.com.au